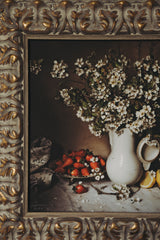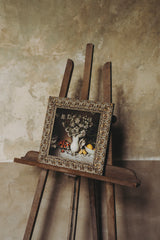 Still Life with Pear Blossoms, Le Mas des Poiriers by Jamie Beck
Details
Living in Provence is a study in living within the seasons. Farmhouses dot the landscape around vineyards and vegetable gardens, and at Les Mas des Poiriers, a pear orchard, you look out the window and wait for the first sign of spring, when the blossoms on the pear trees begin to pop and the strawberries arrive to the market. When I created this photographic still life for Les Mas des Poiriers I wanted to define that moment in time at this place. The water pitcher and bowl from chambre Fontaine sat beautifully in the light, both humble and regal. I walked out into the orchard just outside the blue shutter windows and clipped a bouquet of pear blossoms to compose this still life which I hope not only mirrors the day in the life at this spectacular place, but also, the classic French style of art that adorns the walls. 
Still Life with Pear Blossoms, Les Mas des Poiriers, Villeneuve-Les-Avignon 
Framed fine art print, exclusive edition of 10. Signed, embossed, numbered and dated. Each piece comes with a sealed certificate of authenticity on the back. 
Framed Size: 16 " x 14"  x 4"