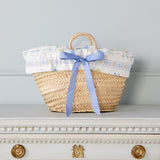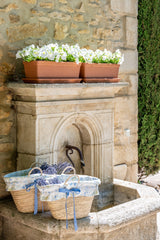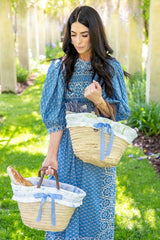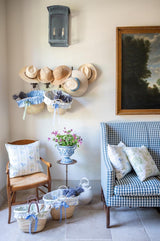 CW x Provence Poiriers - Provence Poiriers Market Basket
We are pleased to present a collaboration with Caitlin Wilson Design featuring beautiful fabrics created specially to highlight Mas des Poiriers in the spirit of traditional Provence.  
A market basket is used daily in Provence where life revolves around market shopping for the freshest in season fruits and vegetables.  These market baskets are lined with our exclusive collaboration fabrics with the wonderful Caitlin Wilson Design and can be used anywhere from daily outings to the beach to the grocery story! We hope that you enjoy these as much as we do!  
Details
-Linen Fabric Liner
-Large Basket Dimensions: 19.5" W x 13" T (9.5" basket opening)
-Basket Material: Please note that the basket itself is made of natural materials and can have variations in color and even asymmetries in texture, size, and shape, but this adds to it's charm.